LIBOR update: ISDA IBOR Fallback Protocols
On Friday the 9th of October 2020, ISDA announced the launch of its IBOR Fallback Protocol and IBOR Fallbacks Supplement on 23rd October, which will take effect from 25th January 2021.
What does this mean for you?
All those in financial services will be able to implement the new protocol in escrow during the two weeks before the lunch of the 'formal adherence policy'. It will also mean new deadlines and policy updates will be developed and you will have to ensure that you familiarise yourself with them.
What are the regulators saying?
The FCA, Bank of England, The Financial Stability Board, ARRC, The Federal Reserve, and the Working Group issued a joint statement welcoming the announcement last week, as well as encouraging all affected players to adhere to the protocols.
What are the UK Working Group on Sterling Risk-Free Reference Rates (RFR WG) 2020-21 Top Level Priorities?
Outlined in the RFRWG milestones and roadmap, widespread adoption of fallback language in derivatives contracts is a key priority in the transition away from LIBOR. Firms should not rely on LIBOR being published after 2021 and the Working Group strongly encourages early adherence to the Protocol by affected financial and non-financial firms, as appropriate[1].
Borrows and lenders will need to ensure that they have taken the necessary steps to cease any LIBOR linked loan product after the end of 2021, including by the end of Q3 2020 'making non-LIBOR alternatives available and including contractual conversion mechanisms in new or refinanced LIBOR products' [2].
Those in the UK should ensure that throughout 2020, they promote & enable widespread use of SONIA compounded in arrears.
Those in the derivative market should take the necessary steps to enable a further shift of volume from GBP LIBOR to SONIA.
Develop a clear framework to manage the transition of legacy LIBOR products, to quicken reduction of the stock of GBP LIBOR referencing contracts by end-Q1 2021 and complete active conversion were viable by end-Q2/3 2021.
Provide market input on issues around "tough legacy"
How have the Working Group millstones targets been revised?
The key changes have been made to Q4 deadlines for those in derivatives, bonds & securitisations, and loans. All must be operationally ready and progress of active conversion to reduce legacy volume must be made. The table below (taken from the Working Group milestone document)  highlights the main deadline changes from Q4 – Q3 2021.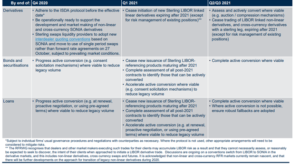 Taken from: RFR Working Group Roadmap. "UK Working Group on Sterling Risk-Free Reference Rates (RFR WG) 2020-21 Top Level Priorities." 9 Oct. 2020.
ARRC's response to the announcement
As with many working groups, policymakers, and regulators, ARRC has welcomed and endorsed the use of the protocols for all its member participants. The ARRC encourages broad market uptake of the Protocol, which implements derivatives fallbacks that are based on feedback from market participants through a series of public consultations conducted by ISDA over the past two years, resulting in a broad market consensus [3].
Tom Wipf, Chair of the ARRC and Vice Chairman of Institutional Securities at Morgan Stanley, stated that:
"It is essential that market participants be prepared to adhere to the Protocol to help address both individual firm risks and systemic risks associated with the discontinuation of LIBOR. Adoption of the ISDA Protocol is a vital step in the transition to more robust rates, such as SOFR,"
Read more on Tom's thoughts on the transition in an interview he conducted with Momenta here.
What are the next deadlines from the New York Fed?
The looming deadline for the next step in the New York Fed's transitional plan will be for market participants to ensure that CME and LCH will convert discounting and PAI/PAA from EFFR to SOFR on all outstanding cleared USD-denominated swap products by October 16, 2020  [4]. For CME, the conversion applies to all cleared USD interest rate swap products comprising fixed/float interest rate swaps, overnight index swaps, forward rate agreements, zero-coupon swaps, basis swaps, and swaptions.
For many firms, the next steps in transitioning will rely heavily on their communication plans. All counterparties, clients, and vendors will need to be contacted and educated on the LIBOR piece. Any concerns or issues will also have to be resolved as regulators will be keeping close to ensure that the best interest of the clients is met. Now more than ever firms will need to ensure that they are in a position and feel transition 'ready'.
If you are not sure if you are as far along as you should be, set up a call with one of our team members to discuss how our resource can fasten your transition effectively and efficiently with keeping regulation and policy at the forefront of operations. Contact us today to see how we can effectively help you.
[1] RFR Working Group Roadmap. "UK Working Group on Sterling Risk-Free Reference Rates (RFR WG) 2020-21 Top Level Priorities." 9 Oct. 2020.
[2] RFR Working Group Roadmap. "UK Working Group on Sterling Risk-Free Reference Rates (RFR WG) 2020-21 Top Level Priorities." 9 Oct. 2020.
[3] ARRC. ALTERNATIVE REFERENCE RATES COMMITTEE ARRC Supports Forthcoming ISDA IBOR Fallbacks Protocol and Encourages Adherence ARRC Urges Timely and Widespread Adherence to the Protocol. 2020.
[4] The ARRC's Paced Transition Plan for Developing SOFR Markets* Step Anticipated Date of Completion Actual Date. 2020.